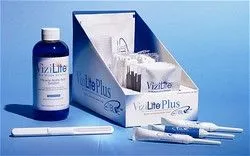 Preventative Dentistry involves procedures designed to minimize periodontal problems, as well as, help avoid cavities. Prevention also involves Oral Cancer screenings to detect lesions at the earliest possible time to improve the likeleyhood of successful treatment. We are currently making Vizilite Oral cancer screenings available. This technology allows us to visualize the tissues of the mouth in a new and improved way providing earler detection of cancerous and pre-cancerous lesions. ( see vizilite.com for additional information)
We advise all participants in contact and non-contact sports to protect themselves from traumatic injury by wearing a strong and well fit mouthguard.
Our office is very proactive in detecting and treating Periodontal disease. We have the latest in Dental products available to achieve optimal periodontal health, as well as treating the patient in the most comfortable way. Arestin is an antibacterial agent placed below the gumline at the time of scaling and root planning to help achieve the maximum benefit fom periodontal treatment and put your mouth in a healthy state. Oraquix is a anesthetic gel placed around the gingival tissue at the time of periodontal treatment to allow for greater patient comfort. ( See Orapharma.com for information about Arestin and Dentsply.com for information about Oraquix)
Another preventative service we provide is Toothprints. This service is designed to help protect children. An imprint of a childs mouth is taken and given to the parent. This Toothprint gives the police an important tool to help locate missing and/or lost children by providing a dental record as well as a DNA sample in the childs saliva.
Dental Services including: Preventative Dentistry, General Dentistry, Cosmetic Dentistry, Teeth Whitening, Bonding, Crowns on Teeth, Pediatric Dentistry, Implant Dentist, Sports Dental Office for the communities of Katonah, lincolndale, Mohegan Lake, North Salem, Golden Bridge, Chappaqua, Cross River, Croton Falls & Armonk.